C. Pony Vigil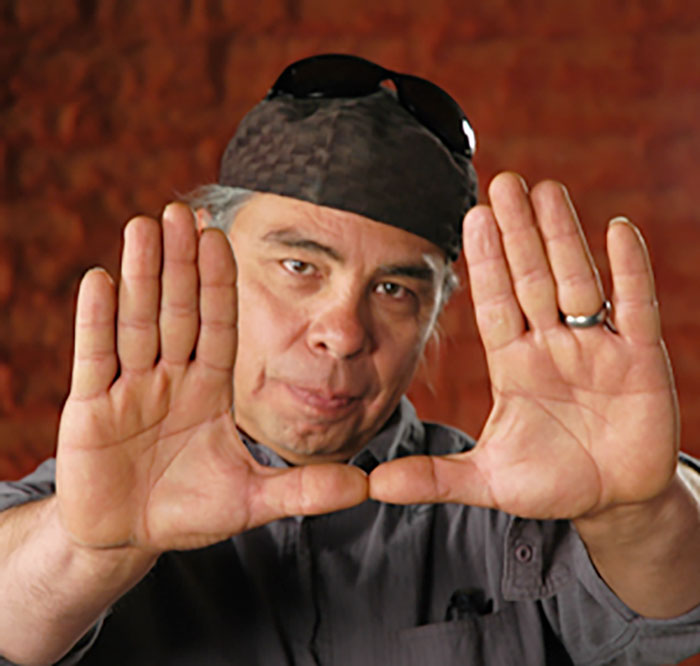 Carl "Pony" Vigil
(Navajo) IMDB
Pony has worked in every aspect of the film industry. He has worked as a lighting director, a field camera operator, film and television director and producer, a producer of Internet content. He has  Research and development experience with Silicon Valley (since 1990), and is an accomplished narrator, singer and musician.
Pony initially started out in the film industry as lighting technician and Rigging Electrician on television and multi million dollar feature film productions such as: "Wild Hogs, "Terminator Salvation," "Cowboys and Aliens" and "Avengers." Pony has an extended knowledge of IT and has been developing cutting-edge media content and continues to find new and innovative ways to push media distribution into the Global  Awareness.
Besides television and feature films Pony has created alliance for Native America and technology, worked with entertainment research for new digital broadcasting. He has Participated in fund raising, network coordination and media delivery. Pony has helped to build a network alliance worldwide with performers and media delivery content providers. Also he has worked as a performance, and security coordinator and is a consultant for Indigenous industries for alternative energy distribution.
Co-producer TBA New Mexico Television show (2011-12)
Producer / Lighting Director "After After Party" TV show with Steven Quezada (2011-12)
Producer / Lighting Director Buffalo Thunder Casino, TV Spots (2010-11)
Producer / Lighting Director Obama Campaign Rally (2008)
Producer R&D Interactive media distribution (2006-11)
Producer Internet content R&D, Silicon Valley since (1990)
Associate Producer Earth Dance INT, in San Francisco, CA – A globalized synchronization for a 5-minute world peace meditation (2000-2009)
Executive Co-producer "Discover Navajo", in Salt Lake City, UT –
"World village" 2002 Winter Olympic Games.Pony was directly involved and responsible for the tribal relations at the 2002 Winter Olympic Games which he assisted with Multi Media Cultural Production.
Produced and directed Public Service Announcements for indigenous people Hawaii 1999-2001
Produced and directed music videos for indigenous people, Hawaii 1999-2001
Co-producer Santa Fe Creative's, in Santa Fe, NM – 1996
Associate Producer Familiarization Tours, for NM Film 1996
C-producer "World Song" largest children's choir for world peace 1996-98
Designed editing suites for live broadcast for Word link TV, San Francisco, CA 1995
Producer & Director NSN Native Shopping Network Cut Bank, MT – Shopping network for Satellite television. 1993-94
Producer Wold LinkTV Self-sustainability media in rural communities 1992-95
Producer & Advanced Coordinator Sacred Run International between the US and Canada, 65 to 150 runners for earth & cultural preservation.
Introduced the Internet to Native American tribes in 1992.
Pony was part of the Maui Rose Research Communications program, in Lahaina, Hawaii – as the Technical Director, where he implemented Administration and research for web and data based browsers.
Producer Deep Light, in Beverly Hills, CA Introducing the 3d monitors and camera, for Native American Gaming (no glasses needed), also the Executive Producer & Designer of Wild Card the 3D Blackjack game. 1989-92
Pony was part of Midnight Movies, in Culver City, CA – as 1st AD and served" The Undead 3D" Assistant to Director and Line Producer.
Lighting tech R & D Virtual reality with Digital Media Santa Cruz, CA. Public Company; 51-200 employees; Internet industry May 1991 – June 1992 Santa Cruz, CA.
Pony is multi talented, being able to provide creative artistic content in visual arts and music, in addition he is highly skilled in IT and all aspects of film and television production. He is a detailed oriented and demands high standards. Pony has a take charge and can do attitude. He has been a vital asset to every project he has worked on.
Union Production Credits
Las Vegas Project aka Ralph Lamb (2012)
Electrician/Lamp Operator
Longmire Pilot (2011)
Electrician/Lamp Operator
The Avengers/Group Hug (2011)
Rigging Electric / Pipe Rigger
Cowboys and Aliens (2010)
Electrician/Lamp Operator
Cowboys and Aliens (2010)
Electrician/Lamp Operator
Manhattan (2010)
Electrician/Lamp Operator
The Odds (2010)
Electrician/Lamp Operator
Date Night (2009)
Laptop Operator (Lighting)
Breaking Bad Season 1 (2008)
Rigging Electric / Pipe Rigger
Crash – TV Series (2008)
Electrician/Lamp Operator
Crazy Heart (2008)
Electrician/Lamp Operator
Friendship (2008)
Electrician/Lamp Operator
Love Ranch (2008)
Rigging Electric / Pipe Rigger
Spoken Word (2008)
Electrician/Lamp Operator
Terminator Salvation (2008)
Electrician/Lamp Operator
The Spy Next Door (2008)
Rigging Electric / Pipe Rigger
Conspiracy (2007)
Electrician/Lamp Operator
Game (2007)
Electrician/Lamp Operator
In Plain Sight – Season 1 (2007)
Electrician/Lamp Operator
Line Watch (2007)
Rigging Gaffer
Tennessee (2007)
Best Boy Electric / Asst. Chief Lighting Tech (ACLT)
The Burrowers (2007)
Electrician/Lamp Operator
The Eye (2007)
Electrician/Lamp Operator
3:10 to Yuma (2006)
Electrician/Lamp Operator
Buried Alive: Horror Chronicles (2006)
Electrician/Lamp Operator
Motel Man/The Lost Room (2006)
Best Boy Electric / Asst. Chief Lighting Tech (ACLT)
Wild Hogs (2006)
Rigging Electric / Pipe Rigger
Lawn Mower Man (1991-1992)
Lighting tech R & D Virtual reality with Digital Media Santa Cruz, CA